Description
AORUS PERFORMANCE
AORUS graphics cards are crafted for perfection in pursuit of the ultimate graphics experience for gaming enthusiasts. Based on the revolutionary AMD Polaris architecture, AORUS graphics card brings you incredible gaming experience.
– GPU Gauntlet™ Sorting
– Polaris-powered graphics card give you superior performance and power efficiency
– Support up to 8K display @30Hz (DisplayPort™ 1.3)
– Outstanding performance for Virtual Reality gaming
AORUS ALL-AROUND COOLING SOLUTION
AORUS provides the all-around cooling solution for all key components of the graphics card. We take care not only GPU but also VRAM and MOSFET, to ensure a stable overclock operation and longer life. On the front side, the GPU direct touch heat-pipes to dissipate the most heat from the GPU and VRAM. On the back side, the copper back plate dissipates the heat from the GPU back side. All other key components are taken care of very well by the WINDFORCE cooling module. AORUS ensures the customer a better cooling solution in many ways.
AORUS COOLING
WINDFORCE 2X COOLING SYSTEM
WINDFORCE 2X COOLING SYSTEM

Equipped with 2x 100mm unique blade fans, 4 pure copper composite heat-pipes, and heat-pipe direct touch GPU, the WINDFORCE 2X cooling system delivers an effective heat dissipation capacity.
RGB FUSION
With 16.7M customizable color options and numerous lighting effects, you could now choose the right scheme for your gaming rig through AORUS graphics engine.
CYCLING
Smoothly cycles through all colors
AORUS EXCELLENCE
PREMIUM BUILD IN EVERY ASPECT
METAL PLATE
POWER INDICATOR
DURABILITY
STYLISH METAL BACK PLATE
The metal back plate offers rigidity and protection to the structure, while adding a sleek, clean look to the product.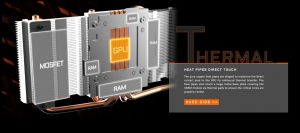 FOLLOW AORUS